Virtual Membership Meeting: The Greatest Gift: A Defined Family Mission and Plan of Succession and Governance
Date:
Thursday, February 17, 2022
Speaker:
Angelo J. Loumbas, Morgan Stanley
Registered for this event? Login now to view additional event details.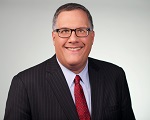 Due to the current state of the pandemic, we will once again (and hopefully for the last time!) hold our quarterly breakfast meeting in a virtual format. This program is offered at no cost for members or member-hosted guests.
ABOUT THE PROGRAM
Well drafted estate planning documents do a great job of moving wealth according to clients' goals and objectives, but do little if anything to move family history, values and mission, often collectively called the "Family Legacy," between generations. Especially with wealthier families, combining good estate planning with the creation of a family mission statement, and in some cases coupling that exercise with wealth education for children or grandchildren, together with good family practices about wealth and philanthropy, can help with the transition of the family legacy from one generation to the next. Angelo Loumbas, who has almost 25 years of experience advising wealth, often business owning families and major philanthropic organizations, will discuss the benefits, methods, and processes for helping families do this type of very important Family Legacy planning to go along with the estate plan and other structures and strategies crafted to move assets efficiently and effectively.
ABOUT THE SPEAKER
Angelo J Loumbas is the Ultra-High Net Worth ("UHNW") Planning Specialist for Family Office Resources in the Northeast Region. Angelo provides specialized expertise to UHNW clients and advisors across a broad range of family wealth management issues, including customized asset allocation and portfolio construction, strategic estate and financial planning, philanthropy management, family governance, wealth education, and lifestyle advisory. Angelo has more than twenty years experience advising wealthy families, business owners, and philanthropic organizations. Originally from Chicago, Angelo practiced law for 15 years and represented UHNW clients, closely held businesses, and major philanthropic organizations. Prior to rejoining Morgan Stanley in his current position in 2018, Angelo advised UHNW clients in the financial services industry for 10 years, first as a Wealth Strategist with US Trust in Chicago, then a Wealth and Estate Planning Specialist in Morgan Stanley's Chicago Wealth Planning Center, and finally as the Senior Wealth Planning Strategist for the Wells Fargo Private Bank in Greenwich, Connecticut. Angelo earned his B.A. from DePauw University, his M.B.A. from the University of Notre Dame, and his law degree from Indiana University at Bloomington.