Virtual Trivia Happy Hour Meet Up
Date:
Wednesday, October 21, 2020
Speaker:
Stephen Walsh, Walsh Trivia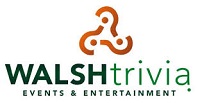 We are excited to bring virtual trivia master Stephen Walsh of Walsh Trivia to the Council for a late afternoon meet up and friendly competition. Please join in the fun for this one-hour event that will feature small teams of members and guests randomly assigned to maximize networking. Trivia questions will test your general and professional knowledge. We will utilize the Council's zoom platform to meet all together and as teams in breakout rooms.
Guests are welcome to register and participate.
Please feel free to have your favorite beverage and snacks on-hand to enjoy during the event.
Additional details and zoom instructions will be emailed on August 25.
Read more about Stephen Walsh ....
SCHEDULE
4:45 pm - Log into zoom for gathering and introductions
5:00 - 6:00 pm - Trivia game
6:00 pm - ? Virtual networking