The Best People: Best Practices for Helping Your Clients Achieve Their Financial Goals
Date:
Thursday, May 10, 2018
Location:
Seasons 52 at Columbia Mall, 10300 Little Patuxent Parkway, Columbia 21044
Speaker:
Richard J. Letocha, JD, CFP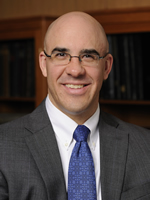 As an attorney, accountant, trust officer, financial advisor, CPA, or other trusted professional, you are in a uniquely influential position to ensure that their charitable giving takes place at a time and in a way that best complements their overall financial and estate planning goals. The fundraising professionals who work for the organizations your clients want to support can also help guide these individuals' giving. This presentation and discussion will focus on the ways that professional advisors and fundraisers can best work together to ensure that individual donors' philanthropic wishes can be honored, both for gifts during life and deferred gifts.
Mr. Letocha assists donors to Johns Hopkins University and Johns Hopkins Medicine, including the Howard Hospital Foundation, with planned gifts such as bequest intentions, life income gifts, gifts of tangible personal property and gifts of real estate. I have prior experience in wealth management, trust and estate administration, and law firm practice. I currently serve as the Treasurer of the Chesapeake Planned Giving Council and also hold leadership positions in my church and several other community organizations.
Space is limited so sign up today!
Schedule of Events
7:15 a.m. Coffee & Networking
7:30 a.m. Breakfast
8:00 a.m. Presentation